A comprehensive overview of organizations on the cutting edge of the PeaceTech movement, each using digital technology to build peace in innovative ways.
by Taylor O'Connor | 25 July 2023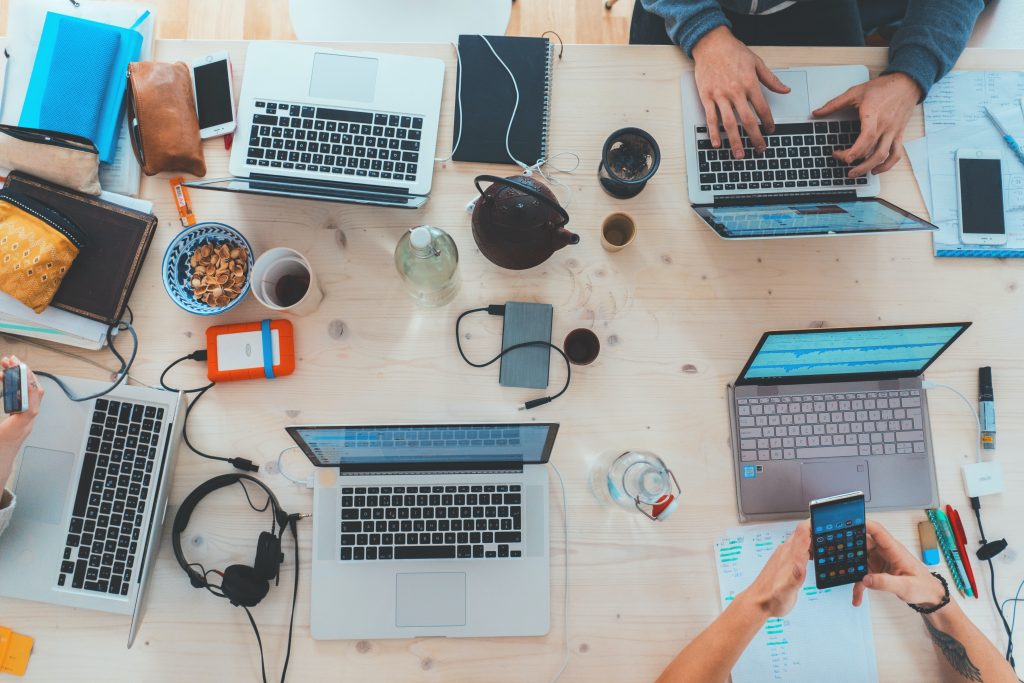 Photo by Marvin Meyer on Unsplash
---
"The true power of technology lies not in its ability to destroy, but in its potential to unite and build a more peaceful world." – Satya Nadella
---
I got a little obsessed with PeaceTech recently.
For those of you new to the term PeaceTech, it basically means the use of digital technology in any efforts to build peace and/or justice.
So how did I come about this obsession you may ask… Well, when Chat GPT came out I played around with the text writing features, and well, I'm not an artistic person, but I had to see what cool images I could create with Dalle-2. All this stuff in the news about the emergence of AI tools for public use, as peacebuilding is my passion I started to pay attention more to reports and resources coming out by organizations using digital technology to build peace and others analyzing the influence of emerging technologies on the dynamics of conflict.
I had done a bit of work some years ago analyzing social media and conflict dynamics, but this thing about technology goes deeper. I started reading about some crazy emerging trends in cyberwarfare, the emergence of cyber-peacebuilding(!), and even some stuff on how to use new developments in SpaceTech for building peace!!!
This was all blowing my mind. I had not seen much on these topics before, and indeed there wasn't much out there. But after some research, and I had to dig deep, I found that there are actually a lot of people, organizations, and academic institutions out there getting in on this conducting research, launching projects, and developing practical resources on the use of digital technology for building peace, a.k.a. PeaceTech.
---
The rate of new technological developments is moving so fast. The war industry has been tapped into it forever. We peacebuilders need to be on the cutting edge of emerging technologies and get using them however possible to build peace. I feel like the first step in that is getting to know available organizations and initiatives on the cutting edge of PeaceTech.
So I did a bit of sorting and organizing for you, and have presented the 21 organizations I found using digital technology for peace and justice into a few groupings, listed here:
Organizations leading the global PeaceTech movement
Organizations whose digital technology activities are indirectly related to peace or peacebuilding
Organizations mobilizing people for social causes
I encourage you to find some organizations in here that are interesting to you and connect with them. Look through their websites and find cool resources, inspiring examples, digital tools, and other useful things you can use. Some of them even fund PeaceTech projects, host virtual and physical events, and connect technologists with peacebuilding organizations.
So check them out! Find some cool resources. Get on their email lists. Get connected. Volunteer. Share with your friends. Hope you enjoy this curation.
---
Organizations Leading the Global PeaceTech Movement
I've got eleven of these. Each tend to operate a variety of PeaceTech activities including operating PeaceTech projects directly in local communities, developing new technology, facilitating collaborative efforts to develop PeaceTech, conducting events, producing research and policy papers, mobilizing technologists for volunteer efforts, linking technologists with peacebuilders, and other activities. If you are a peacebuilder interested in using PeaceTech or connecting with groups who can help you, these are the best of the best.
Build Up
Tagline – We transform conflict in the digital age
Build Up uses digital technologies to transform conflict and build peace. I think their power is in the grassroots, global approach they use to develop and support PeaceTech initiatives. Leveraging a global network of peacebuilders they conduct research, produce reports and resources, and support local projects all focused on using digital technology to build peace. Their programmes and projects have changed over the years, I think probably depending on funding available, but activities they have and do conduct include webinars and events, research and reports, hosting the Build Peace Conference, support for peacebuilding projects using PeaceTech, and providing trainings. They even have some cool free eCourses you can enroll in on a bunch of cool PeaceTech topics. Based in the USA.
AI for Peace
Tagline – Using AI to create lasting peace
AI for Peace works to promote the responsible and ethical use of artificial intelligence (AI) to support peace and social justice. They develop AI tools that peacebuilders, humanitarians and human rights activists can use to prevent and resolve conflicts, promote intercultural understanding, and address other social issues. They collaborate with experts from academia, civil society, and the tech industry to in the development of AI tools and work with them to advocate for policies that promote the ethical use of AI ultimately to promote peace and protect human rights.
ICT4Peace
ICT4Peace focuses on leveraging information and communication technologies (ICTs) to prevent and resolve conflicts, and to promote sustainable peace. They work governments, civil society organizations, and the private sector, to design and implement innovative ICT-based peace initiatives. Projet examples include the use of ICT for the protection of civilians in armed conflicts, facilitating peacekeeping missions, setup of early-warning systems for violence, assisting in post conflict reconstruction, in cybersecurity, and in the promotion of peaceful environments in cyberspace. They also provide research, training, and advisory services on the use of technology in peacebuilding. They have been around since 2003, and the numerous initiatives they have led over the years I believe give them unique practical knowledge on how to use digital technology for peace in effective and sustainable ways. They have nearly 100 publications on their website for download. Based in Swizerland.
Peace Geeks
Tagline – We create digital tools to support greater connection, peace and safety for those who have been displaced
I've been following Peace Geeks for some years now and have been very inspired by their grassroots beginnings. Now more than ten years old, and starting as a collection of volunteer technologists unsatisfied with the status quo, PeaceGeeks today creates digital tools to support greater connection, peace and safety for persons who have been displaced. They partner with community leaders and organizations to understand the challenges they are facing, and collaborate to create tech-based solutions that strengthen their efforts for peace and humanitarian action. PeaceGeeks provides a range of services, including digital strategy, website design, and online security, to help social organizations increase their impact. They also develop their own technology-based projects, such as the Services Advisor, which connects refugees and immigrants with essential services in their communities. Based in Canada.
Wikipedia for Peace
Wikipedia for Peace brings together individuals from around the world to participate in collaborative, multilingual editing of Wikipedia articles (and associated platforms) to create more content related to peace and social justice issues. They work to increase access to information and promote awareness about underrepresented issues, perspectives, and voices on Wikipedia. They hosts events and workshops around the world that enable participants to develop their editing skills, learn about Wikipedia's policies, and contribute to the creation of high-quality, reliable content for peace. During 2023 they are hosting a month long virtual work camp focused on creating content towards war abolition, then a separate one in a physical space focused on climate justice.
JustPeace Labs
Tagline – Advancing peace and human rights through the power of technology.
JustPeace Labs is a women-founded and lead group that leverages technology to advance peace and human rights in conflict-affected regions. They provide technical assistance and capacity building support to local peacebuilders and civil society organizations around the world. They have also created custom software to monitor conflict in online spaces and to support investigative reporting in conflict zones. The organization emphasizes the importance of community-led approaches to peacebuilding and works closely with local partners to develop collaborative PeaceTech initiatives.
The Global PeaceTech Hub
Tagline – where tech meets governance
The Global PeaceTech Hub is a newer initiative, with the lofty ambition to serve as 'a hub for researchers, peacebuilders, tech companies and change-makers to investigate the role of technology in building peace across borders.' Let's wish them luck. They seem to be well funded however, and while new, they are well staffed and are operating a bunch of projects including one on mapping global PeaceTech, one on blockchain-tech for peace, and one on PeaceTech ethics, among others. They have a few recent publications and perhaps many more to come. Also, starting in 2022 they have hosted a few conferences and a bunch of webinars. Their website makes no mention of their history of when they were founded, but I see no posts prior to mid-2022. Based in Italy. I can only guess that we will be seeing lots more from them in the coming months and years. Based in Italy.
Toda Peace Institute
Tagline – A non-violent, sustainable and peaceful world.
Toda Peace Institute works to promote peace and justice through the use of data and technology, through research, and policy engagement. They work with governments and civil society organizations to collect, analyze, and use data to understand the root causes of conflicts, monitor peacebuilding efforts, and develop evidence-based policies and programs. One key focus area of their research and policy engagement is social media, technology and peacebuilding. They have published a ton of cool reports, policy briefs, guidance resources and other freely downloadable resources on this topic. They are based in Japan.
Futuring Peace
Tagline – Exploring cross-cutting approaches to conflict prevention, peacemaking and peacebuilding for a more sustainable future.
Created in 2020, Futuring Peace is an the 'innovation cell' of the Department of Political and Peacebuilding Affairs (DPPA) of the United Nations (UN). Its purpose is to explore, test, and pioneer new methods for peace on behalf of the DPPA. As it is quite new, with mandate quite broadly defined, and with access to UN funds, they seem to be exploring a bunch of digital approaches to building peace. They have initatives on peace process support, on storytelling thorugh virtual reality (VR), on AI-enabled dialogues, on data analysis, and others. It seems they will keep exploring and experimenting with different new technologies and perhaps they will come up with something useful. For now, what they have on their website is certainly interesting, at times a bit random.
Peace Tech Lab
Tagline – We reduce violent conflict using technology, media, and data.
PeaceTech Lab was a project of United States Institute for Peace (USIP) launched in 2008 that went independent in 2014. They employ a diversity of tech experts to collaborate with governments and civil society organizations to design technology-based tools to promote peace and prevent violent conflict. The organization provides training, mentorship, and funding to support individuals and groups working on PeaceTech efforts. As a project built from USIP, Peace Tech Lab focuses their efforts mitigate the effects of conflict in various countries, but do not operate activities that address any of the causes of conflict that originate from US militarism or foreign interventionism. Given the great influence they have on the PeaceTech movement globally, in my opinion, while their work is of high quality, they have a responsibility to do more to decolonize their peace efforts. Based in Washington D.C.
The Swiss PeaceTech Alliance (SAPT)
This is a new one, established from a collaboration agreement signed in May of 2022 between the Swiss Federal Institute of Technology (EPFL), the Geneva Graduate Institute, and the Geneva Peacebuilding Platform. The idea is to utilize the expertise of all three institutions to build capacity internationally in the field of PeaceTech. It aims to act as a 'knowledge hub' to advance new knowledge and understanding of tech and peacebuilding, and to facilitate the interaction between different institutions and sectors in Switzerland and worldwide. Next steps and additional discussions will be announced in 2023. To be based in Switzerland.
Follow any of these institutions for updates on the launch of SAPT:
---
Organizations whose digital technology activities are indirectly related to peace or peacebuilding
All of these organizations run similar projects and activities as those listed above, but are not specifically oriented towards peace or peacebuilding. Some have peace as one area of work while others do similar work on related topics like social cohesion, social justice, social impact, etc. Hope you find some good ideas and resources in here. 8 organizations in this category.
The Council on Technology and Social Cohesion
Tagline – Designing Tech for Social Cohesion
The Council on Technology and Social Cohesion focuses on using technology to promote social cohesion and prevent polarization in diverse communities. Their efforts promote the creation of technology-based solutions that encourage dialogue and collaboration across different social groups. This group is quite new. There isn't much on their website to date, but they hosted a conference in San Francisco in 2023 with participation from many other PeaceTech influencers so perhaps we will see more from them in the near future.
TechChange
Tagline – We create engaging courses and events on topics that matter
TechChange (short for The Institute for Technology and Social Change) is a website that focuses on using technology to promote social change. They offer online courses, workshops, and other resources that teach individuals and organizations how to use technology for social impact. The courses cover topics such as mobile technology, data visualization, and social media for social change. TechChange also provides consulting services to organizations looking to leverage technology for social impact. Their founder has a background in Peace Studies.
DataKind
Tagline – Harnessing the power of data science + AI in the service of humanity
DataKind brings together data scientists and social organizations to tackle real-world problems. They provide data-driven solutions to various social issues, including poverty, education, healthcare, and climate change. DataKind connects skilled volunteers with social organizations to help them collect, analyze, and visualize data to make informed decisions.
Digital Democracy
Tagline – We partner with earth defenders to co-develop technology for social justice    
Digital Democracy empowers marginalized communities around the world to use technology to defend their rights, engage in political processes, and pursue social change. They promote democratic values and civic engagement by providing training and support on digital tools, such as mobile phones and mapping platforms.
Center for Humane Technology
Tagline – We work to shift technology towards a more humane future that supports our well-being, democratic functioning, and shared information environment.
The Center for Humane Technology focuses on mitigating the negative impacts of technology on human well-being. They advocate for the responsible design of technology that respects human values and helps foster healthy relationships with technology. They provide resources, research, and expert insights on technology's impact on society, and they collaborate with companies, policymakers, and educators to promote more humane technology.
Association for Progressive Communications
Tagline – We work to empower individuals, organisations and social movements to use information and communications technologies (ICTs) to build strategic communities to contribute to equitable human development, social justice, participatory political processes and environmental sustainability.
The Association for Progressive Communications (APC) is a global network of organizations that support people working for peace, human rights, development and protection of the environment, through the strategic use of information and communications technologies (ICTs). They work to create a world where technology empowers people to participate in and shape their societies. They provide resources, training, and support to activists and grassroots groups working to make the world a better place. They have some advocacy efforts focusing on making sure government policies related to information and communication serve the best interests of the general population, especially people living in the global South.
DiploFoundation
Tagline – We specialize in capacity development in the field of Internet governance and digital policy.
DiploFoundation provides online training and education programs on diplomacy, international relations, and digital policy. Their mission is to promote effective and inclusive diplomacy by enhancing the knowledge and skills of diplomats, policymakers, and other stakeholders around the world. DiploFoundation also conducts research, provides advisory services, and organizes events and conferences on topics related to diplomacy and digital governance.
Tech Policy Press
Tagline – We work to provoke new ideas, debate and discussion at the intersection of technology and democracy.
TechPolicy Press is a news and analysis website that focuses on technology policy, regulation and its impact on society. The website covers a range of topics including data privacy, cybersecurity, AI and social media. It provides insights from experts in the field, and is a valuable resource for anyone interested in the intersection of technology and policy. One of their key focus areas is how tech exacerbates or solves issues of violence and oppression.
---
Organizations mobilizing people for social causes
There are a few digital platforms that have tools to mobilize individuals and communities to support social causes. They do this by allowing users to easily create petitions and campaigns on a range of social issues that they can use to mobilize support for a cause. This type of platform can be a good tool for peacebuilding efforts. Three key platforms are listed below.
Change.org
Tagline – The world's platform for change.
Change.org is an online petition platform that enables individuals and organizations to create and sign petitions on a variety of social and political issues. Is one of the largest and most influential platforms for citizen activism in the world running campaigns on a wide range of issues such as climate change, human rights, and social justice. The platform allows individuals to easily create petitions and share them with their networks, and provides tools and resources to help campaigners build support and drive change. Change.org operates globally and has millions of users worldwide. Founded in 2007.
Avaaz
Tagline – We organize citizens of all nations to close the gap between the world we have and the world most people everywhere want.
Avaaz promotes activism and civic engagement on issues related to human rights, climate change, and democratic governance. It is a membership based organization with multiple millions of members worldwide that works by mobilizing its members through online petitions, email campaigns, and social media outreach to put pressure on governments, corporations, and other powerful actors to take action on issues of concern. Avaaz runs community campaigns in 17 languages, across 6 continents, run by thousands of volunteers. Founded in 2007.
Do Something
Tagline – Fueling young people to change the world.
DoSomething mobilizes young people to take action on social issues they care about. The organization is one of the largest organizations for young people and social change in the world. They offer a variety of campaigns and initiatives focused on issues such as the environment, poverty, and mental health. The organization uses digital technology and social media to engage young people and create a sense of community around social causes. DoSomething.org also provides resources and tools to help young people develop leadership skills and become effective advocates for change in their communities. Founded in 1993.
---
The emergence of PeaceTech has brought about new opportunities for utilizing digital technology in efforts to build peace and justice. The 21 organizations highlighted in this article serve as examples of how various groups are contributing to this movement in different ways. By learning from their experiences and utilizing the resources they offer, we can all play a part in using digital technology to promote a more peaceful and just world. So go ahead, explore, connect, and be inspired to take action.
Did I miss any organizations or initiatives that should be on this list? Feel free to pop a link in the comments section to some organizations or initiatives that you know of in the comments section and we can leave this as a resource for all who find it. And I can use your comments to update this blog post in the future.
---
Click HERE to sign up for our newsletter and get connected with the best resources coming out from a broad range of global efforts to build peace, with free resources to your inbox regularly to help you in your efforts to build peace.