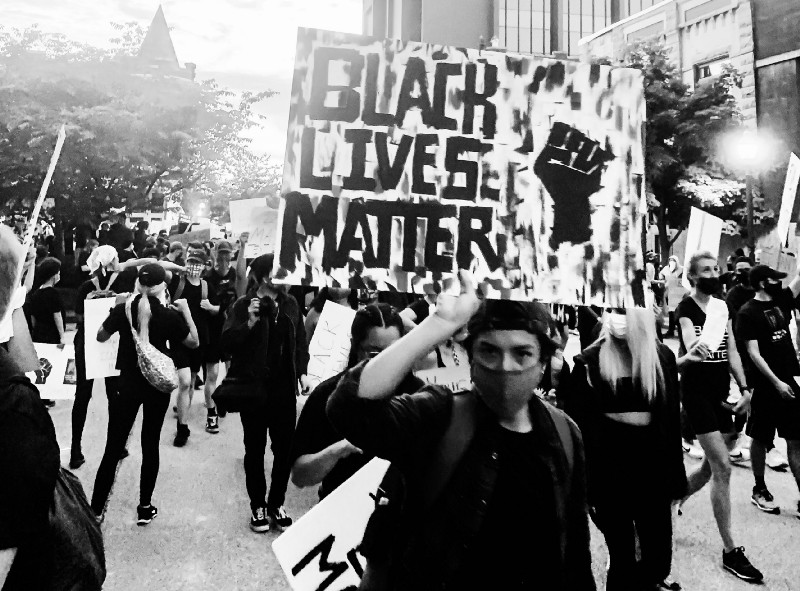 "The first essential characteristic of nonviolent action is that it is creative." — Hildegarde Goss-Mayr
---
There's a lot of people out there in the streets right now seeking justice for the brutal murder of George Floyd by Minneapolis Police, and demanding that those in positions of power take action to address institutional racism.
The widespread support for the movement is wonderful. But for those out in the streets, it is important to know that while many nonviolent movements in the US and abroad that have been successful or at least made progress on key issues, many have failed. What we can learn from studying nonviolent movements around the world is that just hitting the streets is not enough. Those movements with the greatest success are those that were the most creative.
The spontaneous, widespread nature of protests today can be a strength, but only when protesters everywhere plan creative actions across hundreds of cities simultaneously. Going out to support the protest is great. Organizing a creative action is better. Anyone can do it.
---
15 websites with excellent and free nonviolent action resources
There are many websites out there with great free resources on nonviolent strategy, with creative ideas you can use for inspiration. I've sifted through hundreds of websites, and presented the best ones here for you, each with selected resources I think are most relevant to the moment. It isn't necessary to read books on the subject. You can skim through these resources to find ideas for creative action.
Some have large, downloadable manuals, others short thematic handouts or checklists, and a few are organized as a searchable database of ideas for action. Some were developed for civil rights action, some for toppling dictators, others for opposing war, but the content in them can be applied whatever the goal may be.
So here is, plain and simple. The best places on the web to get free nonviolent action resources…
1. The Albert Einstein Institute
The late Gene Sharp, founder of the Albert Einstein Institute, was the first to map nonviolent strategies and tactics. Activists around the world have studied and effectively applied these techniques for decades. His website is full of free downloadable books and resources on strategic nonviolent action and many of the actions he has mapped are very creative.
Selected Resource: 198 Methods of Nonviolent Action (1973)
2. Centre for Applied Nonviolent Action and Strategies (CANVAS)
CANVAS is run by a group of Serbian activists, who led a successful campaign to oust authoritarian leader Slobodan Milošević in 2000. Their materials are some of the most organized and well-presented out there.
Selected Resource: Nonviolent Struggle: 50 Crucial Points (2007)
Beautiful Trouble is a collaborative project of 70 artist-activists. Together they created Beautiful Rising, a web toolbox of resources to make grassroots movements more creative and effective.
Selected Resource: Beautiful Rising Toolbox
BlackOUT Collective is a radical direct-action organization that conducts trainings on creative, strategic direct action, and provides on-the-ground support. Their website includes a curriculum, handouts, and toolkits for conducting direct actions.
Selected Resources: Action Planning Tips and Tricks and Action Tactics During a Time of Social Distancing
5. Black Lives Matter Foundation
Black Lives Matter Foundation is a global collective of liberators whose mission is to eradicate white supremacy and build local power to intervene in violence inflicted on Black communities by the state and vigilantes. They have a few thoughtful and practical action resources on their website.
Selected Resource: Healing Action Toolkit
6. International Center on Nonviolent Conflict (ICNC)
ICNC creates and shares resources on civil resistance. Their website has a database of downloadable nonviolence resources.
Selected Resource: The Path of Most Resistance: A Step-by-Step Guide to Planning Nonviolent Campaigns
Founded by Palestinian activist Mubarak Awad in 1989, Nonviolence International advocates for active nonviolence and supports nonviolent campaigns worldwide. They host an online database of over 300 nonviolent tactics, built upon the Albert Einstein Institute's 198.
Selected Resource: Nonviolent Tactics of Civil Resistance
The Ruckus Society is a multi-racial network of trainers dedicated to providing the necessary tools, preparation, and support to build direct action capacity for ecological justice and social change movements. They have a unique approach to thinking and planning strategic nonviolent direct actions, and their resources reflect this.
Selected Resource: The Ruckus Action Strategy Guide
War Resisters' League is the United States' oldest secular pacifist organization. They draw on a rich history of nonviolent direct-action spanning generations of war resisters. Their website includes resources covering various approaches for resisting war, including nonviolent direct action.
Selected Resource: Steps in a Campaign
10. War Resisters International
War Resisters International is a global pacifist and antimilitarist network with over 90 affiliated groups in 40 countries. As a network, they support network collaboration and produce resources with and for members.
Selected Resources: 1) Planning Nonviolent Campaigns, and 2) Tools for grounding, protecting and blockading
Empowering Nonviolence is a program of the War Resisters' International, offering campaigning resources and nonviolence training to grassroots activists worldwide. They have excellent thematic resources for creative action.
Selected Resources: 1) A practical guide to video activism, 2) 10 tips for planning a theatrical action, and 3) Blockades: a short guide to getting in the way
12. INCITE! Women of Color Against Violence
INCITE! is a network of radical feminists of color organizing to end state violence and violence in their homes and communities. They have produced many resources, including one specifically about law enforcement violence as it affects women of color and trans people of color.
Selected Resource: Stop Law Enforcement Violence Toolkit
Organizing for Power is a personal website of lifelong activist Lisa Fithian, that compiles lessons from her over 30 years of organizing with nonviolent activists. Her website offers a wealth of information organized into 'Building Blocks for Change,' each with analysis, tools, and resources to help put the concepts into action.
Selected Resource: The Art & Science of Actions
14. CODEPINK
Code Pink is a women-led grassroots organization working to end U.S. wars and militarism who routinely are involved in nonviolent direct actions for peace and justice. They have a few very specific and practical organizing tools for download on their website.
Selected Resource: How to Plan a Successful Action
15. Resource Center for Nonviolence
The Resource Center for Nonviolence is a peace, justice, and antiracism organization that has been training and supporting activists since 1976. In addition to training, the Center makes available resources on nonviolent theory and practice.
Selected Resource: Seven Principles of Active Nonviolence
---
Afterward
If you're going out to the protests, be sure to educate yourself on systemic issues that need to change to end police violence and work towards racial equity in American society. A Vision For Black Lives: Policy Demands for Black Power, Freedom, and Justice by the BlackOUT Collective provides an excellent overview.
I may update this article at a later date.
Systemic change is an ongoing struggle.
---
Learn more creative ways you can build peace and justice in the world around you. Download my free handout 198 Actions for Peace.