A list of ten hand selected books on peace to help you learn how to build a more peaceful, just world. Find some in here of interest to you. Have a read and it will help you get you started on your peacebuilding journey.
by Taylor O'Connor | 12 July 2023
"A lot of times we look at the whole world and think, 'it's so daunting, how can we change the whole world?' and you don't need to do that, what you need to do is change your world a little bit, and see if you can, through example, inspire others to do the same thing." – Michael Franti
Do you build peace or are you interested in building peace? Perhaps you consider yourself a peacebuilder or a peace activist, or perhaps neither, but are passionate to create a more peaceful and just world for everyone.
If so, there is a lot that you, or anyone really, can do to build a more peaceful and just world. Whether you are concerned about global issues or wish to make a difference within your community, there are excellent books available to inspire and help you learn ways to build peace, to get you started on your journey building peace.
---
---
---
---
---
 To support you on your personal journey, I have compiled a list of my top ten books that provide inspiration and practical recommendations on building peace. Instead of focusing solely on academic works, I have chosen books with a more personal and practical approach, including those with a social justice perspective and with stories from individuals I consider to be peace heroes. I hope that this variety of recommended books will help you get started on your peacebuilding journey, or if you've recently started, go help you progress.
Have a look. I'm sure you will find at least one book that resonates with your passion for peace, or simply for creating change on the social issues you care about. Each book is accompanied by a brief description and an Amazon link for purchase. Note that the provided links are affiliate links, which you can find a description of at the end of the article.
1. You Can't Be Neutral on a Moving Train: A Personal History (1994) | by Howard Zinn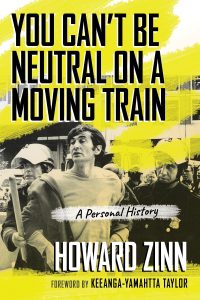 This book is not a classic in the field of Peace and Conflict Studies, nor does it provide a step-by-step guide on building peace, like some others in this list. Instead, it is a compelling personal memoir written by the inspiring author and activist, Howard Zinn. Reflecting on his life, Zinn recounts his experiences as a young bomber pilot during WWII, his involvement in the US civil rights movement, and his subsequent anti-war activism. He shares stories from his encounters with leaders in these social movements, illustrating the power that ordinary individuals possess to create a more peaceful and just world.
Zinn's memoir instills hope as he reflects on the social changes witnessed throughout his decades of engagement in social justice and peace activism. The book offers insightful coverage of different approaches taken by him and others to advocate for change. Through storytelling, Zinn delves into issues intersecting race, class, inequality, colonialism, militarism, and the American empire.
Listening to this book as an audiobook as I did can be particularly enjoyable as Zinn's narrative style revolves around storytelling. I was eager to get out on my walk each day with my headphones to see what happened next in his story and the lessons he learned from engaging with peace and justice activists for decades.
2. The Moral Imagination: The Art and Soul of Building Peace (1997) | by John Paul Lederach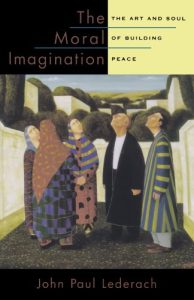 This book is a revered classic in the field of peacebuilding. Many peacebuilders revisit it multiple times throughout their own journeys, always discovering new lessons within its pages.
John Paul Lederach, a renowned peace scholar and practitioner, utilizes storytelling to convey his insights on the role of empathy, creativity, and compassion in peacebuilding. He highlights that while political negotiations and structural changes are often emphasized in peace efforts, true peace requires a transformation of hearts and minds. Lederach introduces the concept of the moral imagination and shares inspiring stories of peacebuilders from conflict zones worldwide who have employed it to bridge deep divisions and pave the way for peace.
Deep listening, art, literature, and storytelling are some of the approaches discussed by Lederach, who emphasizes the transformative potential of creative expressions in peacebuilding.
This book has achieved its status as a peacebuilding classic by advocating for a paradigm shift towards inclusive and participatory approaches in peacebuilding. Its relevance continues today, as Lederach calls on readers to question dominant narratives, confront systemic injustices, and foster collaborative relationships that amplify the voices of marginalized individuals.
3. How to Change the World (2013) | by John Paul Flintoff at School of Life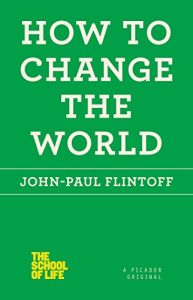 This book doesn't focus specifically on peacebuilding but covers essential themes related to building peace. It highlights approaches that ordinary individuals can adopt to contribute to positive social change, drawing many examples from peacebuilding organizations and initiatives. The author emphasizes the message that every individual possesses the ability to make a difference.
The book offers practical advice from a perspective outside the peacebuilding field. It provides reflective activities for readers to assess their values, passions, and skills in order to identify areas where they can effectively contribute. The author encourages readers to overcome self-doubt and offers tips for goal setting, overcoming obstacles, and building resilience in the face of setbacks.
Exploring various avenues for creating change, such as activism, entrepreneurship, and community engagement, the author demonstrates how regular people can leverage their unique talents and resources to address pressing social issues. Collaboration and collective action are highlighted as powerful forces. The book uses a conversational tone, making it relatable, and offers practical advice for individuals interested in finding ways to build peace or effect change on any social issue they care about.
4. Little Book of Strategic Peacebuilding: A Vision And Framework For Peace With Justice (2005) | by Lisa Schirch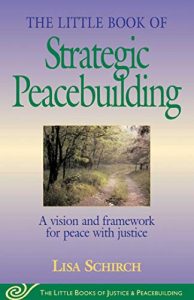 This is a peacebuilding classic and part of the series called "The Little Books of Justice and Peacebuilding," published by Eastern Mennonite University. At time of writing, there are 23 books in the series, each focusing on a different theme related to peace and/or justice. While others are interesting and cover a range of topics, this particular book is especially valuable for new peacebuilders of all kinds as it offers step-by-step instructions for planning peacebuilding efforts.
The author, Lisa Schirch, is a respected academic and practitioner in the field of peacebuilding. Her book introduces a comprehensive framework for strategic peacebuilding with a social justice perspective. The book explores the importance of addressing the root causes of violence, promoting inclusive dialogue, and building relationships across divides.
Additionally, the book covers topics such as nonviolent action, advocacy, reconciliation, dialogue facilitation, and community-based initiatives in peacebuilding. Lisa emphasizes that inclusive decision-making processes and gender equality are essential for building sustainable peace. She provides practical tools for planning and launching contextually relevant and inclusive peacebuilding initiatives.
5. Creating True Peace: Ending Violence in Yourself, Your Family, Your Community, and the World (2004) | by Thich Nhat Hanh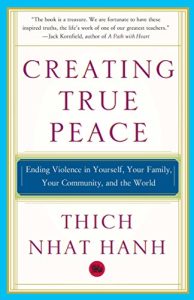 I have read numerous excellent books by Thich Nhat Hanh, but I consider this one to be the most practical in establishing a connection between building peace within ourselves and in the world. Thich Nhat Hanh, a Buddhist monk, peace activist, and meditation teacher from Vietnam, shares stories from his life to teach lessons on ending violence and fostering harmony both internally and externally.
Many books on peacebuilding tend to overlook the personal aspect, but this book speaks to the challenges faced by peacebuilders, the impact that peacebuilding efforts can have on personal well-being, and the positive effects that cultivating personal peace can have on our peacebuilding work.
As in his other works, Hanh provides practical guidance on cultivating mindfulness, compassion, and understanding within ourselves. In this book he emphasizes how these qualities contribute to peaceful relationships and interactions with others. The book also offers specific guidance on resolving conflicts in relationships, tips on practicing deep listening and skillful communication, and guidance for facilitating in peaceful dialogue and promoting reconciliation.
Lastly, Hanh reflects on the underlying causes of violence in society, such as anger, fear, and ignorance. He shares his insights on transforming these aspects through mindful social engagement, with the ultimate goal of promoting a more peaceful, just society.
6. Freedom is a Constant Struggle (2016) | by Angela Davis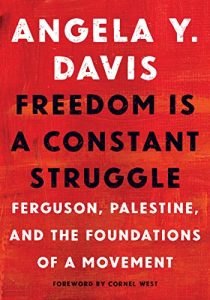 This book is a powerful compilation of essays, interviews, and speeches by lifelong activist and scholar Angela Davis. Davis gained prominence as a social justice and anti-war activist in the 1960s and 70s and has maintained connections with international social movements ever since. The book offers a compelling analysis of contemporary struggles for justice and freedom in the United States and worldwide, drawing from the author's direct involvement in these movements.
I selected this book because it underscores the importance of social justice perspectives and approaches often overlooked in peacebuilding. Davis covers a wide range of issues, including systemic racism, mass incarceration, gender inequality, economic injustice, and global resistance against imperialism. She highlights the interconnectedness of social justice movements worldwide, providing historical context through her own experiences.
Davis emphasizes the need for collective action and solidarity across movements. She explores the concept of 'intersectionality' and the interconnected nature of oppression. She encourages readers to envision a world free from all forms of discrimination and exploitation, urging them to engage with groups working towards these goals. Throughout the book, Davis shares lessons from her lifetime of activism and coalition building. This book offers valuable insights and lessons for peacebuilders seeking to foster a more just and equitable world.
7. Peace by Peaceful Means: Peace and Conflict, Development and Civilization (1996) | by Johan Galtung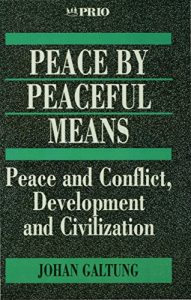 This book is a foundational work by renowned peace scholar Johan Galtung, widely recognized as the founder of Peace Studies. His theories and approaches presented in this book continue to exert a profound influence on peacebuilding practice and scholarship.
Galtung's book delves into his theories of structural and cultural violence, providing models for conflict analysis that are still widely employed today. It has significantly contributed to the development of peacebuilding language and concepts. His book presents his theory mapping key physical, structural, and cultural violence, while offering transformative approaches to address them. Galtung advocates for a proactive stance that goes beyond ending violence, emphasizing the creation of conditions necessary for sustainable peace.
Drawing upon a diverse array of historical, political, and social movement examples, Galtung illustrates his theories and presents practical tools for conflict analysis, mediation, and peacebuilding, applicable across various peacebuilding contexts.
8. The Little Book of Conflict Transformation (2003) | by John Paul Lederach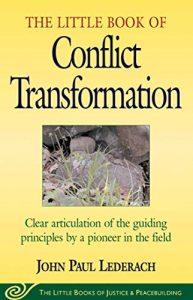 This book is another classic in the "The Little Books of Justice and Peacebuilding" series published by Eastern Mennonite University. It offers a comprehensive overview of the fundamental principles and practices of conflict transformation. Written by peace scholar John Paul Lederach, the book equips individuals and communities with practical tools to effectively engage with and transform conflicts.
Lederach emphasizes that conflict transformation is a holistic approach that is deeper than conflict resolution or management. He underscores the significance of addressing the root causes of conflicts to achieve sustainable peace. The book briefly covers various practical approaches in conflict transformation, including relationship-building, trust-building, creating safe spaces, active listening, and cultivating empathetic understanding. These strategies enable individuals involved in conflicts to communicate effectively and discover collaborative solutions.
Additionally, Lederach explores the transformative power of storytelling, creativity, and the arts in conflict transformation, sharing inspiring stories from his own experiences. He also delves into the use of dialogue, music, and the arts. This book serves as a valuable resource for anyone seeking positive ways to engage with and transform conflicts in various spheres of life, be it personal or professional. The inclusion of practical exercises and real-life examples enhances its accessibility for a wide range of readers.
9. The Art of Waging Peace: A strategic approach to improving our lives and the world (2013) | by Paul K. Chappell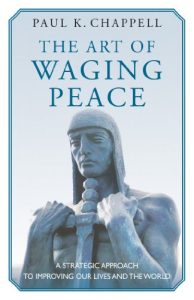 This book is great for aspiring peacebuilders as it is written by an author who shares a lot about his personal journey from serving in the military to becoming a peacebuilder. Paul K. Chappell draws on his military experiences to challenge prevailing notions about war and violence, providing insights into his own transformation. And he presents a framework for peacebuilding that is accessible to regular individuals.
The book revolves around the connection between personal growth and the pursuit of peace in the world. Chappell delves into cultivating the qualities necessary to "wage peace," offering tools and techniques for effective communication, negotiation, conflict resolution, and the fostering of understanding and harmonious relationships.
Education is a prominent theme in the book, with the author emphasizing its role as a catalyst for social change. Chappell highlights the importance of integrating "peace-learning" into formal, non-formal, and informal educational settings. He also explores the psychological aspects of peace, addressing the destructive nature of anger, fear, and trauma, while sharing approaches for healing as contributions to peace.
The book's accessibility stems from the author's use of relatable stories from his own life and a focus on small actions that ordinary individuals can take to build peace.
10. I Am Malala (2013) | by Malala Yousafzai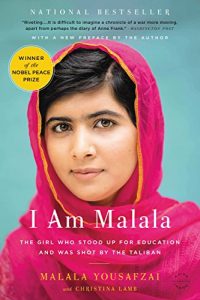 This is the story of peace hero Malala Yousafzai, written by Malala herself. It is the story of her life, beginning with Malala's childhood where she describes her love for learning and the challenges she faced in pursuing an education as a girl. She discusses her activism from earlier days of blogging about injustice for the BBC, to being targeted by the Taliban and the attack that almost took her life, to her rise as a global advocate for girls' education.
Her book is full of stories from her life. It is an inspiring story of how one person can make a difference, and how one can grow a powerful movement through connection with others. Her stories cover the intersection between issues of gender inequality, religious extremism, and the importance of education in challenging oppressive systems. It is the story of one remarkable person, but because so many people can relate to Malala, it is a book that inspires everyone to do what they can to build a more peaceful and just world.
This one is also great, because the have a version for young readers. Link below.
---
---
---
I hope you found one or more books that can help you get started on your peacebuilding journey, or help you progress if you have already begun. If you have read any of these books and want to share your thoughts, let us know what you think in the comments below.
Other book recommendations: This is the first blog post in a series of blog posts about book recommendations for peace. I'll be writing other posts recommending books for experienced peacebuilders, about historic books on peace, autobiographies and biographies of peace heroes, and on key themes of building peace including peace education, social cohesion, gender/feminist peace, music and the arts for peace, environmental peacebuilding, media/tech and peace, conflict management, social justice and peace, peace activism, demilitarization and war abolition, peace infrastructure, building a culture of peace, and other related topics. Find more book recommendations on building peace on the resources page of our website HERE
If you have any book recommendations on peacebuilding or on any of the related themes above you can make a submission of a book you would like me to recommend by clicking HERE.
Also, click HERE to sign up for my newsletter to get regular tips, tools and FREE RESOURCES to help you find creative & effective ways to build peace.
* This post contains one or more affiliate links, which means that if you buy something though the link, I may earn a small commission. This is at no additional cost to you. It helps to support my blog which helps me serve you better. I only recommend learning materials and other products I believe can help you in your efforts to build peace. Cheers, Taylor