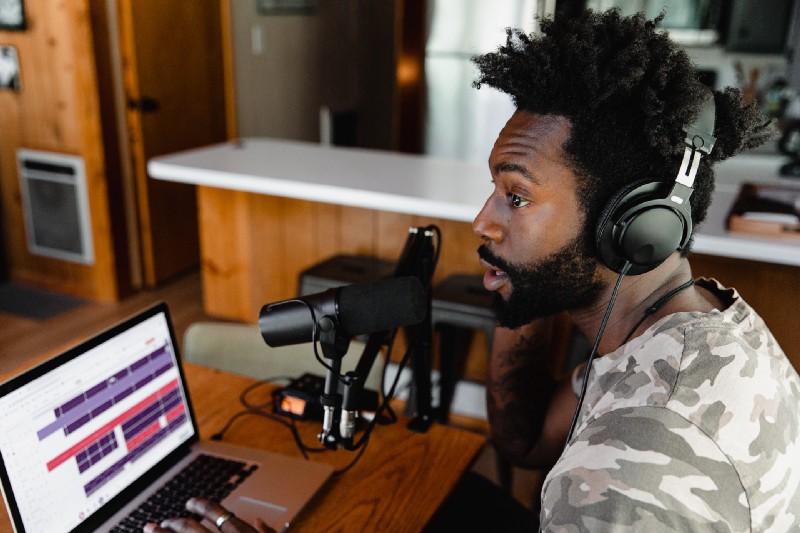 ---
"Human existence cannot be silent, nor can it be nourished by false words, but only by true words, with which people transform the world." — Paulo Freire
---
Working for peace and justice can be stressful. And at times, it is an isolating endeavor. One must not only be thinking deeply to understand the causes of the issues you are engaging with, but also think of creative ways to transform them and take action. The issues we're dealing with are complex and dynamic, and there is often little guidance available to help us decide our next move.
Often overlooked, an excellent resource that can help you to learn creative approaches to build peace and justice is podcasts. And while many podcasts discuss current events, few talk about strategies for change. But they are out there. You have to know where to find them. I'm a big fan of podcasts and have been collecting my favorites on the topic of building peace and justice for some years now.
So I've got twenty recommended podcasts here to help you find creative ways to build peace and justice. Some have been around for many years, others are new, and a few are discontinued but still have episodes available. I have organized accordingly. Some are produced by large organizations, some by universities, and some by individuals or small groups. Each is unique in some way. Take a look and see what calls out to you.
I've put the links to the podcast websites here and the organization that hosts each, with a description and one recommended episode to help you get a good sense of the flavor of each podcast. You can access each of these via its website, on Apple Podcasts, Spotify, Stitcher, Google Play, Podbean, or wherever you listen to podcasts.
---
20 Podcasts for Peacebuilders
Long-established podcasts
1. The Peace Corner | by the Global Partnership for the Prevention of Armed Conflict (GPPAC)
The Peace Corner talks with peacebuilders worldwide, each of whom is a part of the GPPAC network, each working in a different region and telling a different story. Each episode offers unique perspectives on a spectrum of issues, hoping to engage, challenge, and open your ears to the many courageous voices making peace possible.
An interesting thing about the podcast is that GPPAC interns lead it. The host of each episode is a different intern interviewing someone in the GPPAC network. Usually, the intern chosen to host any given episode is either from the country of the interviewee or has relevant knowledge about the issue. The podcast is seasonal and posts about 13 episodes each year since 2018. Episodes are generally about 30 minutes each.
Recommended episode: Activating Youth to Build Peace in the US (S04E02) (9 June 2020)
2. Peace Talks Radio | by Good Radio Shows, Inc.
Peace Talks covers peacemaking, nonviolent conflict resolution, social justice, media literacy, and other topics. Episodes are in interview format, and it is impressive how many interesting guests they have had on the show discussing a wide range of issues. The podcast has been posting a new episode on the last Friday of each month since 2003. Each episode is about one hour and contains between 2 and 3 separate interviews covering the topic.
Recommended episode: Grappling with the Violence of Whiteness (30 November 2018)
3. Talk about Saving the World | by Peace Magazine and Project Save the World
Talk about Saving the World is an exploration into ways we can prevent one or more of the six most serious threats to humankind (as defined by the podcast): 1) war and weapons (especially nuclear), 2) global warming, 3) famine, 4) pandemics, 5) massive radiation exposure, and 6) cyber-attacks. Publishing new episodes weekly since early 2019, they already have over 100 episodes with a broad range of peace activists and experts. Episodes are just over one hour.
Recommended episode: 062. Beautiful Trouble (25 May 2019)
4. Building Peace | from the University of Oxford
Building Peace is a podcast based on recordings from an annual conference held at Oxford University. Each year has a unique theme and recorded talks given at the conference are associated with that theme. They tend to strike a balance between the academic side (research, etc.) and the practice of peacebuilding (skills, strategies, new approaches, etc.).
The conference has been held every year since 2010. Recordings range from 6 minutes to nearly one hour. They post recordings each year after the conference is complete. The date of the conference each year is also different. And the number of recordings posted each year ranges from 7 to 16. To date, there are over 100 talks posted.
Recommended episode: OxPeace 2018: The economics of conflict versus the economics of peacebuilding and sustainable peace (16 November 2018)
5. The Peacebuilding Podcast | by SusanColeman.global
The Peacebuilding Podcast aims to support people, organizations, and entire societies to build a more collaborative and peaceful world. Each episode contains an interview with inspired practitioners and explores strategies to intervene in complex systems to build consensus and common ground across divides of worldview, culture, and difference. Since 2015. Episodes are about an hour, more or less, with 6 to 14 episodes posted per year.
Recommended episode: 45. Ep 45: Kristina Lunz: A Feminist Foreign Policy (28 April 2020)
6. On Conflict
On Conflict aims to help you transform your relationship with conflict. The hosts are professional conflict mediators who have in-depth conversations with guests and apply their 'mediator knowledge' to some of the world's conflicts, to conflict in organizations and in our lives. This podcast began in 2018. Episodes are each approximately one hour; then, the hosts post another short episode to reflect on learning from their interviews with guests. There is no set schedule for publishing.
Recommended episode: Episode 42: Bill Eddy and Michael Lomax on High-Conflict Personalities (23 July 2020)
7. The Social Change Career Podcast | by the Peace and Collaborative Development Network (PCDN)
The Social Change Career Podcast helps you align your passion, your purpose, and your career. It is a series of conversations with professionals in the social change field to learn how they are changing the world while making a living. Conversations cover a range of topics related to social change and include social change career advice. Since 2017, they have posted episodes during two seasons each year. Earlier seasons have about 7–9 episodes, but since last season it seems that they have doubled the frequency of publishing episodes. Each episode is one hour, more or less.
Recommended episode: E2S7: Local Approaches to Systemic Change with Satyam Vyas (1 September 2020)
8. On Peace | by the United States Institute of Peace (USIP)
On Peace posts regular, short conversations with USIP experts discussing and analyzing the international issues and current developments on these issues. The podcast began in 2017. Episodes are posted weekly and are each ten minutes.
Understand the purpose of USIP's existence is to promote peace in the sense that it is essential for US security. This influences not only perspectives shared within each episode, but also the choice of which issues to cover. Case in point, the recommended episode below has useful commentary on numerous social movements worldwide, but they mention nothing about the ongoing Black Lives Matter movement in the US itself.
Recommended episode: Jonathan Pinckney on Social Movements and Coronavirus (29 April 2020)
---
New podcasts
Podcasts in this category started in 2019 or 2020.
9. Nonviolence Radio | by the Metta Center for Nonviolence
Nonviolence Radio covers news about nonviolence culture and movements around the world. The show also includes inspiring discussions with nonviolence practitioners and movement-builders. This podcast began in 2019. A new episode is posted every other Friday. Episodes are approximately one hour.
Recommended episode: Courageous Conversations & Actions (31 July 2020)
10. World BEYOND War: A New Podcast | by World Beyond War
This podcast supports the mission of World Beyond War: the abolition of war and its replacement with an alternative security system based on peace and demilitarization. Each episode is an interview with a different member of World Beyond War's global grassroots network and discusses a different topic about strategies to abolish war and to build peace. This is a new podcast that started in early 2019. Episodes are each about one hour, more or less. They post a new episode almost every month.
Recommended episode: Art and Activism (24 May 2020)
11. Root of Conflict Podcast | by UCP3 in collaboration with The Pearson Institute for the Study and Resolution of Global Conflicts from the Harris School of Public Policy at the University of Chicago
Root of Conflict analyzes violent conflict around the world, and the people, societies, and policy issues it affects. Harris Public Policy students talk with experts and practitioners to discuss what can be done to create more peaceful societies. Episodes often cover current research and data associated with conflict and how it can be used to transform some of the most pressing challenges facing our world. This is a new podcast, started in late 2019, but so far they have more than ten episodes. Each episode is about 30–45 minutes each and is a unique and in-depth exploration of a topical issue.
Recommended episode: Police Violence in America (30 April 2020)
12. The Kroc Cast: Peace Studies Conversations | by the Kroc Institute for International Peace Studies at the University of Notre Dame
The Kroc Cast is a new podcast featuring peace studies conversations convened among faculty, staff, alumni, visiting fellows, and friends of the Kroc Institute, a global peace studies hub. Conversations cover current events, emerging research, and peacebuilding work worldwide focused on finding strategies for building sustainable peace. This podcast began in 2019, and episodes tend to range from 30 to 45 minutes. New episodes are posted every 2 or 3 weeks.
Recommended episode: Teaching Peace in Active and Post-Conflict Zones (2 March 2020)
13. PRIO's Peace in a Pod | by Peace Research Institute Oslo (PRIO)
A brand new podcast, started August 2020, covering a range of topics related to peace and conflict, and on security and insecurity. The podcast brings expert opinions on the headlines, personal stories from the field, and cutting-edge research on different forms of violence and how they affect people with analysis on how societies tackle crises. A new episode is posted every Thursday, and episodes are about 20 minutes, more or less.
Recommended episode: 2- Black Lives Matter and the Hope for a Positive Peace (20 August 2020)
14. Peacebuilder | by the Center from Justice and Peacebuilding at Eastern Mennonite University
A brand new podcast that began in early 2020, Peacebuilder covers conflict transformation, restorative justice, and trauma awareness and resilience. New episodes are posted every few weeks and range from 45 minutes to 1.5 hours.
Recommended episode: Colorizing Restorative Justice (30 March 2020)
15. Music and Peacebuilding | by the Music & Peacebuilding site at Elizabethtown College
The Music and Peacebuilding podcast explores diverse perspectives, disciplines, and stories to reclaim connection and care through the arts, exploring a range of questions associated with music and peacebuilding.
Recommended episode: Decolonizing the Music Room with Brandi Waller-Pace (21 October 2019)
---
Podcasts that are discontinued or in hiatus
The podcasts listed in this section have not posted new episodes for a year or more. Some are discontinued and others are in hiatus, hoping to return to posting more episodes in the future. All have great episodes available.
16. Pathways to Peace | by the Early Childhood Peace Consortium (ECPC)
Pathways to Peace discusses how positive early childhood development can lead to global peace. Episodes feature discussions with global experts who share experiences and challenges they face implementing early childhood development programs to build a more peaceful world. This podcast ran from 2015 to 2019, and there are 13 episodes available. Each episode is about 10–30 minutes.
Recommended episode: Children & Conflict: Leveraging Research to Inform Policy | Guest Theresa Betancourt, Harvard (12 February 2017)
17. the peacemakers
The Peacemakers podcast amplifies the voices of men and women calling for people of goodwill to come together to build bridges of understanding across division to serve the common good. This podcast ran from 2016 to 2019, and there are 21 episodes available. Episodes range from 45 minutes to 1 hour 30 minutes.
Recommended episode: 012: Lessons Being Learned in the Most Diverse City in America — with Stephen Klinberg (21 June 2017)
18. Common Knowledge | by Interfaith Youth Corps (IFYC)
Common Knowledge is a podcast to inform and inspire great interfaith and religious diversity work. Episodes are interviews with network members and interfaith leaders who share stories and educate about what IFYC calls 'interfaith literacy.' This podcast ran from 2013–18, and 27 episodes are available. Most episodes are between 20 and 30 minutes, some less.
Recommended episode: Sikhism and Storytelling (with Valarie Kaur) (8 May 2014)
19. The Peace Lab | by The Mennonite, Inc., and the Peace and Justice Support Network
The Peace Lab podcast covers current events, faith, and peacemaking from a Mennonite perspective. Episodes are interviews with Mennonite peacebuilders sharing their experiences on a range of topics. This podcast rand from 2016–18 and 29 episodes are available. Episodes are 30 minutes each, more or less.
Recommended episode: PeaceLab Episode 26: Bystander Intervention with Melissa Florer-Bixler and Joy Shaver (11 December 2017)
20. The Peace Frequency | by the United States Institute of Peace
The Peace Frequency presents in-depth interviews with ordinary people doing extraordinary things to create a world free of violent conflict. This podcast ran from 2014–2018. Episodes range from 20 minutes to over one hour. Fifty-four episodes are available.
Again, understand the purpose of USIP's existence is to promote peace in the sense that it is essential for US security. This influences not only perspectives shared within each episode, but also the choice of which issues to cover.
Recommended episode: Episode 36 — Saba Ismail (co-founder of Aware Girls, Pakistan) (16 June 2016)
---
I hope you find some inspiration in these podcasts to support your work for peace and justice, and that you discover some creative approaches to apply in your context. If there are any great podcasts on this topic that I've missed, let me know in the comments section below.
---
Find more creative ways you can a more peaceful, just world. Download my free handout 198 Actions for Peace.